Treasures of Ancient East Anglia 'Recce'
Sutton Hoo, Seahenge, Grimes Graves, Royston Cave
This will be the first time we have explored this ancient land that is the home to some fascinating and unique artifacts and sites.
Proposed Itinerary
Day One – Leaving Preston early morning we will travel down to East Anglia calling off at the enigmatic Royston Cave, with its curious carved cave art. From there we will continue to our hotel in Norwich (Bed & Continental Breakfast basis).
Day Two – Grimes Graves flint factury, Weeting Castle, Thetford Warren Lodge, Priory and Church of the Holy Sepulchre.
Day Three – Sutton Hoo
This hauntingly beautiful 255 acre estate, with far-reaching views over the River Deben is home to one of the greatest archaeological discoveries of all time.
Once a thriving hub in the time of Anglo-Saxon warrior kings, for some 1,300 years Sutton Hoo faded from memory. Then a curious landowner and a self-taught archaeologist restored it to international fame with a discovery that changed history.
On a ridge overlooking the River Deben are the traces of a once magnificent Anglo-Saxon cemetery. Here, the powerful aristocracy of East Anglia buried their dead in great mounds during the sixth and seventh centuries. In 1939 on the eve of the Second World War, archaeologists made a remarkable discovery at Sutton Hoo as they opened the largest burial mound and found an undisturbed Anglo-Saxon ship burial (one of only three known Anglo-Saxon ship burials.)
Today as you walk up from the River Deben to Sutton Hoo's Royal Burial Ground, you are walking in the footsteps of those Anglo-Saxon mourners that strained every muscle to haul this great ship weighing approximately 10 tonnes and measuring 27 metres in length to its final resting place. It was then buried with their late king and a vast array of treasures on board. During the 1,300 years it remained hidden in the soil, the wood gradually rotted, leaving only a shadowy trace peppered with rusty iron rivets. The ghost of a former ship.
A total of 263 finds from this burial revolutionised our understanding of the first chapters of English history including the now iconic Sutton Hoo helmet, the face of the Anglo-Saxon period. A time that had been seen as unsophisticated, was illuminated as vibrant and cultural.
As well as being home to one of the greatest archaeological discoveries of all time, Sutton Hoo is also home to a rich variety of wildlife. With beautiful countryside, woodland, open fields and views overlooking the River Deben there are plenty of walks to explore across the Sutton Hoo estate.
Day Four – A free day to take in historic Norwich with its old town streets, Castle, Museum and Cathedral.
Day Five – Seahenge
"Seahenge" was a 4000 year old Bronze Age timber circle discovered in 1998 on the quiet and often forgotten North Norfolk Holme beach.
But it caused a huge amount of controversy both locally and nationally, when English Heritage agreed to fund the Norfolk Archaelogical Unit to remove the timbers from the beach rather than leave them in situ.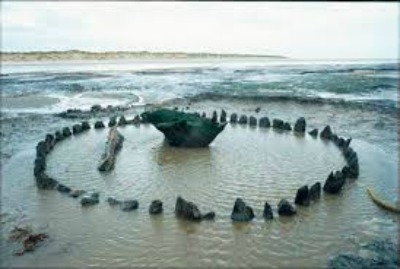 Seahenge was so called by the media as it resembled Stonehenge in Wiltshire.
It's a huge tree stump that was buried upside down with its roots upper most, and surrounding this tree stump were 55 timber posts, which had been cut from smaller oaks in the surrounding area.
It must be remembered, of course, that 4000 years ago Holme beach was a salt marsh, not a sandy beach.
Some say the upturned tree stump was put there so dead bodies could be laid on top and birds and animals could then pick away at the flesh and bones.
Gradually, over 3000-4000 years the sea has encroached the land and covered the peat beds which were naturally preserving the timbers.
Day Six – Today we will head north and home
Treasures of Ancient East Anglia
Price of the Six Day Tour £1400
Single Supplement £100
Deposit £250